Project Orientation
Take the creativity design industry as the core, making "one-stop" work style digitization service base which congregates creativity design, research and development, manufacture, transaction, display, financial hatching, intellectual property rights protection, intelligence authentication, training, appraisal and public service, and it will be the best of China and even Asia.
Strategy Aim
Actualize "123" strategy
Make one "Base"
Makes one state-level creativity design industry garden base which to be able to satisfy the world well-known brand creativity design enterprise creation and the transaction digitized high end conformity.
Realization Two "Provides"
Provides the complete "one-stop" work style public service

Provides the integrity the creativity design industry chain
Build Three "Platforms"
Build perfect foundation service platform

Build integrity value-added service platform

Build interaction international exchange platform
objectives
"city of design" Creative Industrial estate take Shenzhen as the standpoint, the exploration forms the innate intellectual property rights to transport the services structure and the pattern, according to regional creativity industrial development condition separately in places chain-like establishment creativity industry estates such as Jiangsu Jiangyin, Guangzhou, Zhuhai, Wuhu
Operation pattern

(The branches of the Operation pattern)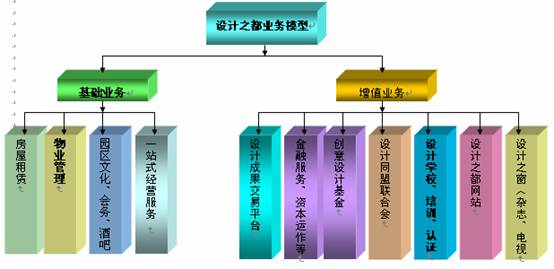 Operation pattern of the city of design.
Basic Operation.
Increment Operation.
Building Leasehold.
Living management.
"one-stop" work style management service: Including business license charged affaires; Tax affairs proxy; Financial proxy; Legal advisor; Talented person employment advertise and training, policy consultation and so on;

Product transaction platform: The design auction, the product packing, facilitates the transaction and so on, including for enters seeks the customer in the domestic and foreign enterprises Foundation demand Design product Product packing plan Product going on the market Market feedback Product improvement New product going on the market

Design union federation: Intellectual property rights protection alliance joint pledge; Price protection; Profession standard and so on;

Window of the design: Begins publication "the Shenzhen Design" or "Design All"; The opening week broadcasts the television column "Creativity Rivers and lakes" and so on;

Design Training & Qualification Authentication: All kinds of skill training and design certifications home and abroad etc, hosting the first design EMBA lecture in china with the Design College of Hong Kong Polytechnic University .

Financial Service: The foundation of Originality design fund, Small-scale Loan, The application of government fund. Venture Capital, Capital business; the growth of product and enterprise, nominate and manipulate the design enterprises (home and abroad) to come into the market.)
Service Pattern
All the operation would be built by the modern communication platform-Call Center, which could offer the service of one step in full orientation for the enterprises in the Creative Plaza. Also, enterprises in the Creative Plaza could call the center of the plaza by phone, fax, image; E-mail, message, Net call and so on .All of the service would be responded promptly, which could make enterprises in the Creative Plaza get quick Hi-efficiency knight service.